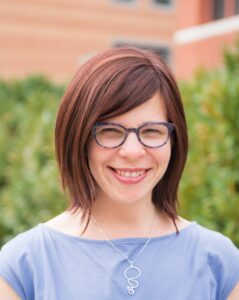 Rebecca A. Adelman is Professor and Chair of Media and Communication Studies.  Her research is animated by a curiosity about the intersections of visual culture and militarized violence, especially questions of affect, citizenship, and ethics.  She is the author of Beyond the Checkpoint: Visual Practices in America's Global War on Terror and Figuring Violence: Affective investments in Perpetual War and numerous journal articles.  She is also the co-editor of Remote Warfare: New Cultures of Violence.  In 2020, she founded Coronavirus Lost and Found, an online public archive where anyone can log anything, no matter how big or small, they've lost because of the pandemic.
She has taught across the MCS curriculum, and guided many seniors through their MCS 499 capstone projects.  Her teaching interests include visual culture, media history and theory, surveillance, and globalization.
She is also an affiliate faculty member in the department of Gender, Women's, & Sexuality Studies, and has taught in the Intermedia and Digital Arts MFA program.  For five years, she served as the co-chair of the College of Arts, Humanities, and Social Science's Women's Faculty Network.  She has an MA in Women's Studies and a PhD in Comparative Studies, both from The Ohio State University, and has been teaching at UMBC since 2009.
In 2016, she received a University System of Maryland Regents' Award for Excellence in Research.