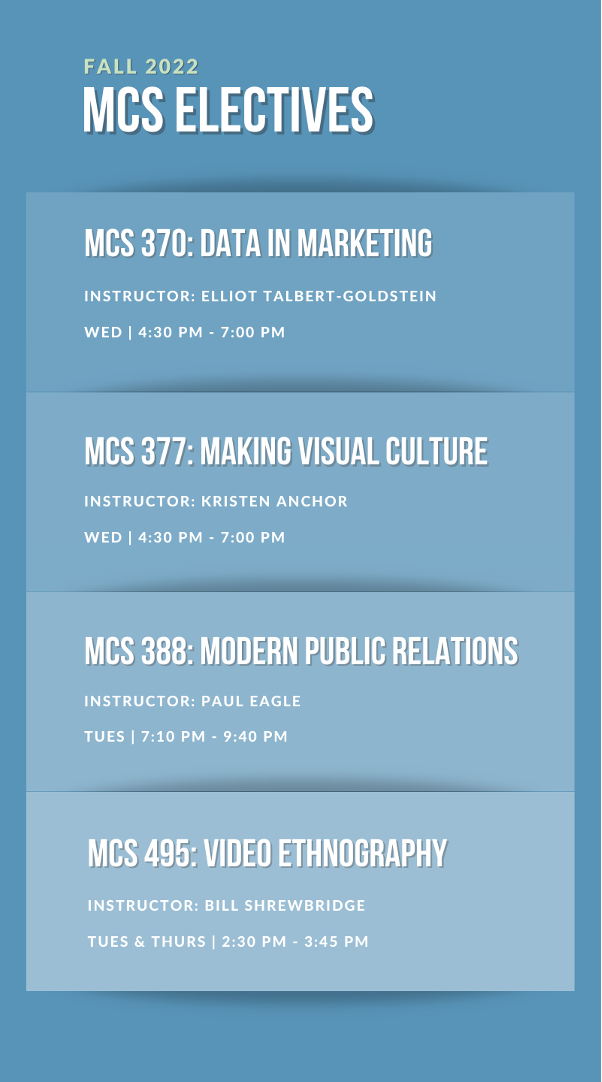 By Joy Au
Still looking for an elective next fall? From media theory to marketing, MCS has a wide selection of courses that will equip you well with media literacy and communication skill sets valuable in any professional environment. While this broad array may seem overwhelming at first, I encourage you to take advantage of it and explore through media topics you may be unfamiliar with or even just slightly interested in! With any course you take with MCS, it's never a matter of if it will be applicable, but just a matter of when — hence the reason you'll find many UMBC scholars adding MCS as a double major to enhance their other degree. As you learn how media is woven through every aspect of society, you'll be surprised to find how easily applicable the coursework is throughout seemingly unrelated aspects of your career and personal life. MCS 355 (Social Media: Networking) sparked my initial interest in the field of marketing and introduced the career option of social media marketing — something I hadn't previously known existed at all; furthermore, the social media marketing campaign in MCS 355 (Social Media: Networking) definitely came in use as I proposed a rebranding project at my current job as a social media manager. All the research I'm currently doing on the westernization of Chinese food in MCS 499 (Senior Seminar) has me reconsidering a career of food journalism — something I'd previously written off. So take a look at what the MCS department has to offer, whether you're an MCS major or not! 
Here's what we have open for Fall 2022:
Visit the schedule of classes for scheduled times.
MCS 370 | Data in Marketing 
Develop in-demand career skills for data-driven marketing through data collection & research analysis as you study multidisciplinary theories and tools through information systems, economics, psychology and human-computer interaction.
MCS 377 | Making Visual Culture 
Explore key terms and techniques of visual media production through the study of visual culture & analysis and hands-on practice of professional production tools such as Adobe Suite and Wordpress.
MCS 388 | Modern Public Relations 
Study key skills and insights of public relations engagement throughout the non-profit, corporate, and agency sectors as you analyze real-life case studies & crisis communications strategies alongside industry ethics and issues.
MCS 495: Video Ethnography 
Discover video production as a means of exploring the social world: students will gain experience in video production techniques as they collaborate with Baltimore community members in creating reflective documentaries amplifying community voices.
If none of these classes seem to be calling your attention or don't fit in your schedule for next semester, it's never too late to plan ahead! Add them to your planner — and check out some of the other MCS electives:
MCS 355 | Social Media: Networking & Mobility
Critically engage with the growing role of social media, online networks, and mobile communication technologies in both your own personal life and the larger society you live in; through topics of social media technologies and trends, social theories, and ethics and privacy concerns, students will reflect on the role social media plays in shaping an increasingly digital society and vice versa. 
MCS 366 | Podcasting 
Learn to create a comprehensive podcasting experience through this course: As students learn to think critically about the media they consume and the ethics of telling other people's stories, students will study production techniques such sound-gathering, interviewing, script writing, and audio editing towards a final product of a documentary-style audio story. 
MCS 395 | Television Production
Develop your television production skills as a team member of on-campus TV productions, studying camera operations, video recording, control consoles, lighting instruments and general operating procedures.
Please note that the course descriptions above are only abridged versions — you may find full information regarding these courses in the official UMBC schedule of classes. 
Posted: May 11, 2022, 2:06 PM