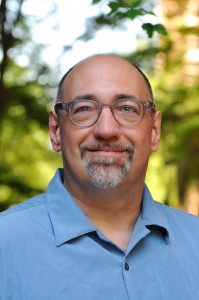 Jason Loviglio is Associate Professor of Media and Communication Studies. His research is primarily in media history and radio and podcasting studies. He earned his Ph.D. in American Studies at The University of Minnesota in 1999 and his BA from Wesleyan University in the College of Letters in 1987. He has been at UMBC since September of 1999, first in American Studies and since 2007, in MCS, where he was the founding chair.  In addition to teaching most of the courses in the MCS core curriculum, he has taught courses in radio and sounds studies, media theory, critical media literacy and special topics courses in post-9/11 culture, multicultural perspectives on the US wars in Iraq and Afghanistan, media and politics, and the human voice in social context, with Christine Mallinson in Language, Literacy, and Culture. He was the 2009-2010 winner of University of Maryland System Regents' Faculty Award for Excellence in Teaching. He is the two-time winner of the Faculty Mentor Award from UMBC department of Residence Life.
He is co-editor of Radio Journal: International Studies in Broadcast and Audio Media. He is co-editor with Mia Lindgren, of The Routledge Companion to Radio and Podcasting Studies (Routledge, 2022). He also co-edited (with Michele Hilmes) Radio Reader: Essays in the Cultural History of Radio(Routledge, 2002) and of Radio's New Wave: Global Sound in the Digital Era(Routledge, 2013). He is the author of Radio's Intimate Public: Network Broadcasting and Mass-Mediated Democracy (Minnesota, 2005), a chapter of which has been republished as "The Influence of Broadcasting on Politics," in Major Problems in American Popular Culture, Kathleen Franz and Susan Smulyan, eds. (Boston: Wadsworth Publishing, 2011). He has written articles on the cultural politics of US public radio and podcasting and on cultural studies pedagogy for numerous publications, including Radio Journal: International Studies in Broadcast and Audio Media, RadioDoc Review, The Journal of Radio and Audio Media, The Journal of Alternative and Community Media, and A Moment of Danger: Critical Studies in the History of U.S. Communication Since World War II. He is past winner of the J. Franklin Jameson Fellowship, jointly awarded by the Library of Congress and the American Historical Association.
Loviglio sits on the board of Wide Angle Youth Media, non-profit organization that provides Baltimore youth with media education to tell their own stories and become engaged with their communities. He lives in Baltimore with his wife and their two sons.