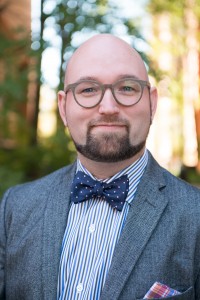 Bryce Peake is an assistant professor of media and communication studies at UMBC. He is an affiliate faculty member in Gender + Women's Studies and Language, Literacy, and Culture.
Prof. Peake's research brings together data science, ethnographic, and archival methods to analyze the gendered pretenses and implications of information politics in the post-World War II British and American empires. His first book Media Citizens: Standpoint Acoustemology and the Media Sciences that Made Gibraltarian Men British examines how English colonial administrators in the British Mediterranean utilized gendered media sciences to inform communication policy – pro-British policy that lives on in the ways that Gibraltarian men listen to media and define themselves as British today. He is currently working on a second project entitled Global Corporate News and the Big, Deep Conspiracy against Men-kind. This project combines participant observation and machine learning to situate perceptions of "conspiracy obsession" within transnational debates about masculinity, media, and the State. Prof. Peake has also published peer-reviewed articles on British information and communication policy, international media surveillance collaborations, and research method/ology. Beyond the academy, he is a frequent writer for Ms. Magazine and the Anthropology of Science, Technology and Computing blog, and an avid Wikipedia editor and facilitator.
In MCS, Prof. Peake teaches courses on media ethnography, big data, and the intellectual history of media and communication theory. He has supervised multiple undergraduate research award winners, as well as graduate students in the Language, Literacy, and Culture PhD program. In 2018, Prof. Peake received a Pedagogy and Teaching Award from the College of Arts, Humanities, and Social Sciences to develop a data science course for humanities students.
You can read more about Prof. Peake's research and pedagogy at https://bryce-peake.com